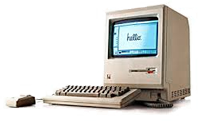 Mac Experts Since 1984
When Apple announced the Macintosh in 1984, Intellex was one of the first companies to realize the potential of this fine machine. We have continued to work on Apple products, harnessing the power of these sophisticated computers for our clients.

4th Dimension Registered Developers
In 1987, Intellex became once of the first registered developers of the 4D database program. This experience makes Intellex the best choice in the Chicago area and nationwide to develop your database project.
Who Trusts Intellex
A sampling of clients who have used our services:
Why Custom Software Makes Sense
Many people don't understand why they should create custom software instead of just buying a package. The reason is simple: a package can't do everything you want it to. This means that you have to work the way the package allows, not the way your business works.
We design custom software packages to fit the unique needs of each customer. But we don't reinvent the wheel on each project. We use a common database framework for routine functions and write custom code for the areas you need customized. This keeps costs down and effectiveness high.